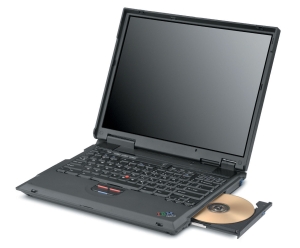 Selling an IBM Thinkpad A21e Laptop
Fully functional. Battery still holds some charge.
IBM Part Number
2655-93U
Asking $SOLD
http://www-307.ibm.com/pc/support/si...hEntry=265593U
Celeron 700 MHz (128KB), 64MB RAM, 20.0 GB HDD, 14.1 XGA(1024x768) TFT LCD, 24x-10x CD-ROM, Intel Combo, NiMH battery, Win2000
Upgrades from factory specs: 40GB HDD, WinXP installed
If I get my asking price, I will throw in a 64MB DIMM and a port replicator (mini-docking station).
Comes with AC adapter and carrying case. (Carrying case subject to availability at time of purchase).
Upgrade to AC/DC Adapter for $10 more. (So you can plug it into your cigarette lighter in the car).